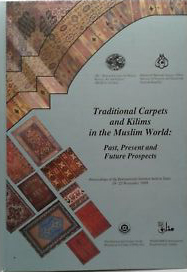 Traditional Carpets and Kilims in the Muslim World: Past, Present and Future Prospects
Author:
Nazeih Taleb Maarouf
Publisher: IRCICA
: 2002
ISBN: 92-9063-105-8
Language: English
Classification Number: 76.7917671 M.N
Registration Number: 3
Tags: Carpets | Dyes | Islam | tradition | weaving |
Description:
---
The book deals with such particular technical aspects of the subject as the use of natural dyes and the new methods used in analyzing them chemically to determine the age of the carpets. The book also provides a clarification of the symbols, forms, and designs used in traditional carpets and kilims. It illustrates with diagrams these designs, the types of looms and their various parts and the spinning process. It examines the raw materials, their treatment, and the traditional tools used in carpet weaving, as well as the lines used in textile weaving. The reader will also find the reports on field surveys and statistical studies relating to the carpet and kilim markets; the problems and challenges encountered, import and export of traditional carpets and kilims and their country-wise distribution, trends observed in buyers' preferences, demand and supply, price trends, and many other aspects and issues.
Back